State winner-take-all laws (that award all of a state's electoral votes to the presidential candidate who gets the most popular votes in each separate state) make it possible for a candidate to win the Presidency while losing the national popular votes.
In these "wrong-winner" elections, the candidate wins one (or a few) states by very small margins, while losing the rest of the country by a large margin.
5 of our 45 Presidents have come into office in this way.
2016
In 2016, Donald Trump became President even though Hillary Clinton won the national popular vote by over 2,800,000 votes.  Trump won because he carried Michigan by about 11,000 votes, Wisconsin by about 23,000 votes, and Pennsylvania by about 44,000 votes.  Each of these 78,000 votes was 36 times more important than the 2,868,518 votes cast in other states.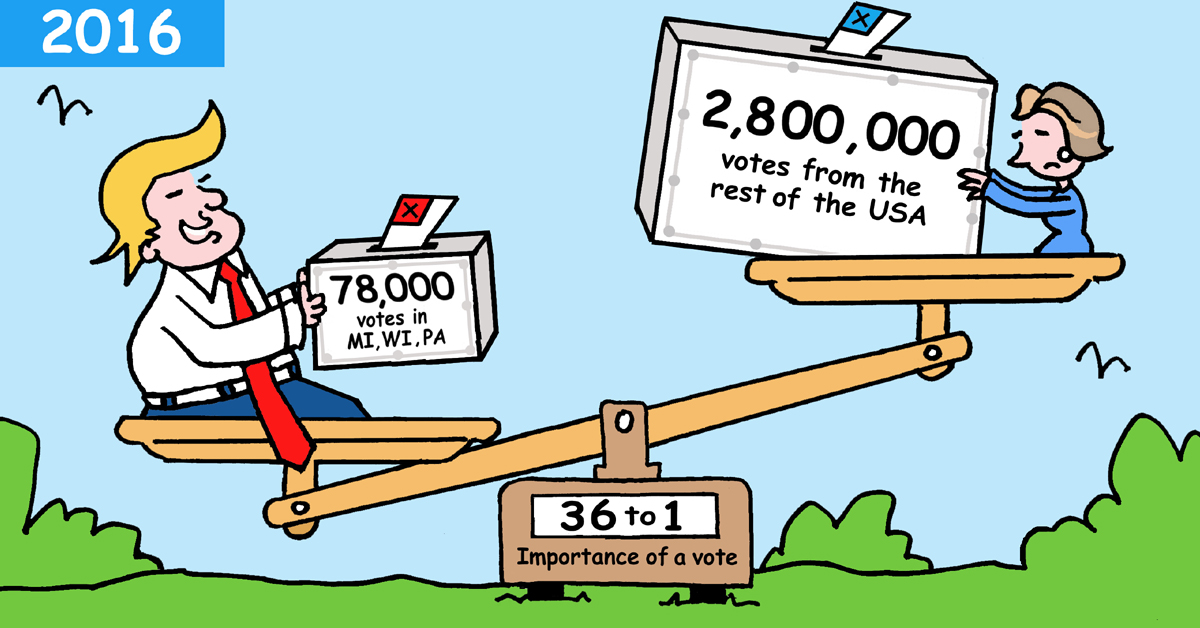 2000
In 2000, George W. Bush became President even though Al Gore won the national popular vote by 537,179 votes. Bush won because he carried Florida by 537 votes. Each of these 537 votes was 1,000 times more important than the 537,179 votes cast in other states.
1876
The 1876 election was similar to the 2016 election in that small margins in three states enabled Rutherford B. Hayes to eke out a one-vote win in the Electoral College. Hayes led Samuel Tilden by 889 votes in South Carolina, 922 votes in Florida, and 4,807 votes in Louisiana -- for a total lead of 6,618 votes. Each of those 6,618 votes was 38 times more important than Tilden's nationwide lead of 254,694.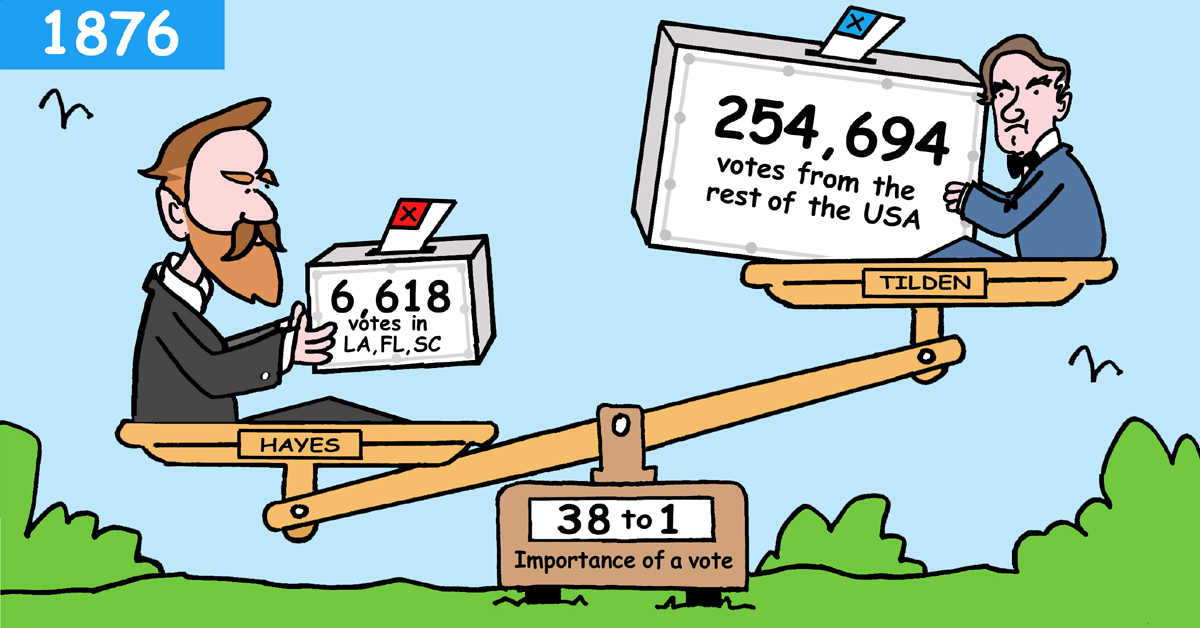 1888
The 1888 election was similar to 2000 in that one state decided the Presidency.  Benjamin Harrison became President by carrying New York by 14,373 votes -- even though Grover Cleveland won the national popular vote by 89,293.  Each of those 14,373 votes was 6 times more important than Cleveland's nationwide lead of 89,293.
1824
In 1824, John Quincy Adams became President even though Andrew Jackson received the most popular votes nationwide and even the most electoral votes. Because Jackson did not receive an absolute majority of the electoral votes required by the Constitution, the presidential election was thrown into the U.S. House of Representatives. Under this special procedure, each state had one vote, and John Quincy Adams emerged as President.
| | | | | | |
| --- | --- | --- | --- | --- | --- |
| Year | National popular vote winner | Popular votes received by the national popular vote winner | Person who became President | Popular votes received by person who became President | Popular vote difference |
| 2016 | Hillary Clinton | 65,853,652 | Donald Trump | 62,985,134 | 2,868,518 |
| 2000 | Al Gore | 50,992,335 | George W. Bush | 50,455,156 | 537,179 |
| 1888 | Grover Cleveland | 5,539,118 | Benjamin Harrison | 5,449,825 | 89,293 |
| 1876 | Samuel Tilden | 4,288,191 | Rutherford B. Hayes | 4,033,497 | 254,694 |
| 1824 | Andrew Jackson | 151,271 | John Q. Adams | 113,122 | 38,149 |
NEAR-MISSES
| | | | | | |
| --- | --- | --- | --- | --- | --- |
| Year | National popular vote winner | Margin of victory of national popular vote winner | Electoral votes of national popular vote winner | Number of electoral votes required to win | Popular vote shift that would have changed the outcome |
| 2004 | Bush | 3,012,179 | 286 | 270 | 59,393 in Ohio (20 EV) |
| 1976 | Carter | 1,682,970 | 297 | 270 | 5,559 in Ohio (25 EV) and 3,687 in Hawaii (4 EV) |
| 1968 | Nixon | 510,645 | 301 | 270 | 10,245 in Missouri (12 EV) and 67,481 in Illinois (26 EV) |
| 1960 | Kennedy | 118,574 | 303 | 269 | 4,430 in Illinois (27 EV) and 4,782 in South Carolina (8 EV) |
| 1948 | Truman | 2,135,746 | 303 | 266 | 3,554 in Ohio (25EV) and 8,933 in California (25 EV) |
| 1916 | Wilson | 579,024 | 277 | 266 | 1,711 in California (13 EV) |
| 1884 | Cleveland | 66,670 | 219 | 201 | 524 in New York (36 EV) |
| 1860 | Lincoln | 485,706 | 154 | 152 | 25,069 in New York (35 EV) |
| 1848 | Taylor | 137,933 | 163 | 146 | 6,773 in Pennsylvania (26 EV) |