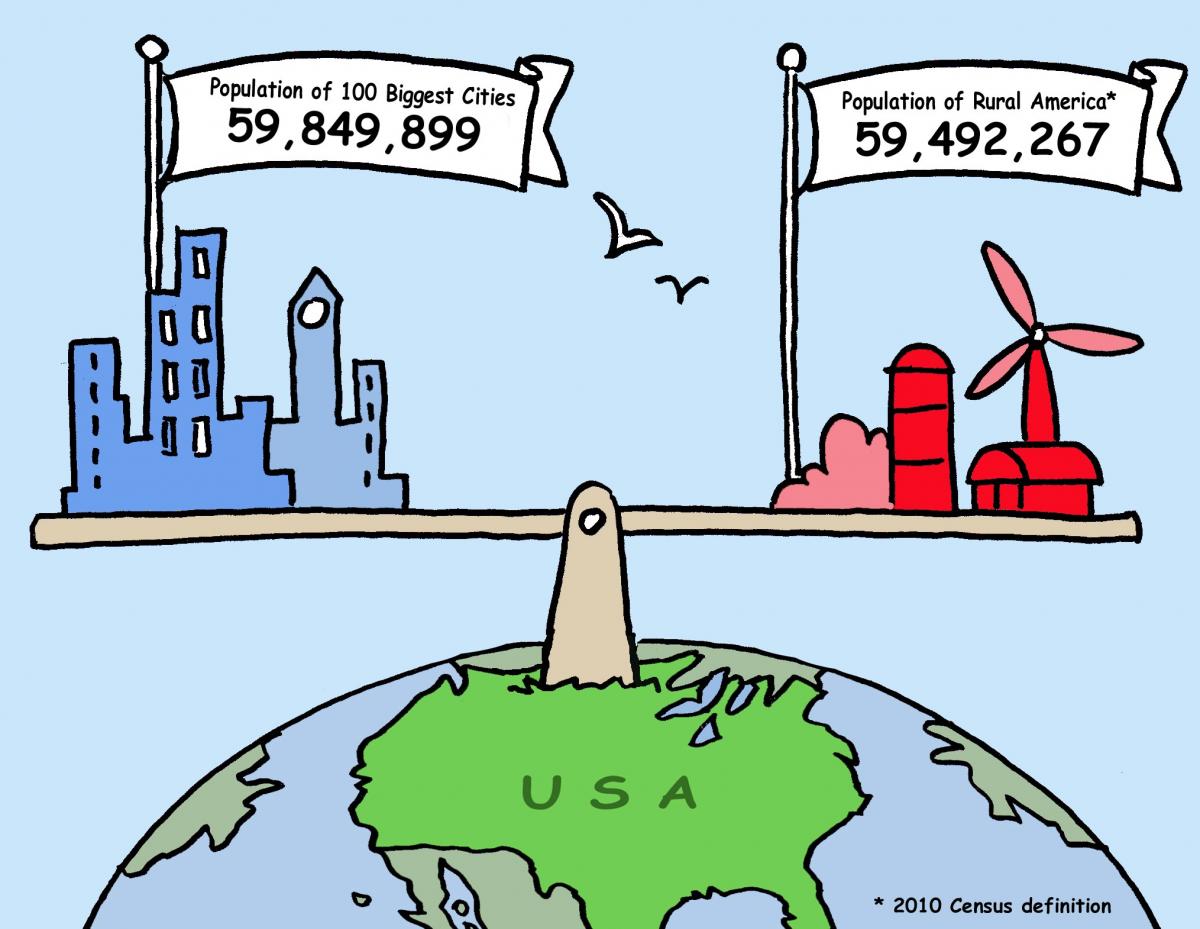 Many people think that the big cities of the United States are bigger than they are, or that the rural areas of the country are smaller than they are.  
The 100 biggest cities in the United States have, according to the 2010 census, 59,849,899 people (19.32% of the U.S. population of 308,745,538).
This number is almost identical to the rural population of the United States, as defined by the U.S. Census Bureau, of 59,492,267 people (19.27% of the U.S. population).  
| | | | |
| --- | --- | --- | --- |
|   | City | Population |   |
| 1 | New York, NY | 8,175,133 |  Biggest city is 2.6% of U.S. population |
| 2 | Los Angeles, CA | 3,792,621 |  Top 2 cities are 3.8% of U.S. population |
| 3 | Chicago, IL | 2,695,598 |  Top 3 cities are 4.7% of U.S. population |
| 4 | Houston, TX | 2,099,451 |  Top 4 cities are 5.4% of U.S. population |
| 5 | Philadelphia, PA | 1,526,006 |  Top 5 cities are 5.9% of U.S. population |
| 6 | Phoenix, AZ | 1,445,632 |  Top 6 cities are 6.4% of U.S. population |
| 7 | San Antonio, TX | 1,327,407 |  Top 7 cities are 6.8% of U.S. population |
| 8 | San Diego, CA | 1,307,402 |  Top 8 cities are 7.2% of U.S. population |
| 9 | Dallas, TX | 1,197,816 |  Top 9 cities are 7.6% of U.S. population |
| 10 | San Jose, CA | 945,942 |  Top 10 cities are 7.91% of U.S. population |
| 11 | Jacksonville, FL | 821,784 |   |
| 12 | Indianapolis, IN | 820,445 |   |
| 13 | San Francisco, CA | 805,235 |   |
| 14 | Austin, TX | 790,390 |   |
| 15 | Columbus, OH | 787,033 |   |
| 16 | Fort Worth, TX | 741,206 |   |
| 17 | Charlotte, NC | 731,424 |   |
| 18 | Detroit, MI | 713,777 |   |
| 19 | El Paso, TX | 649,121 |   |
| 20 | Memphis, TN | 646,889 |   |
| 21 | Baltimore, MD | 620,961 |   |
| 22 | Boston, MA | 617,594 |   |
| 23 | Seattle, WA | 608,660 |   |
| 24 | Washington, DC | 601,723 |   |
| 25 | Nashville-Davidson, TN | 601,222 |  Top 25 cities are 11.3% of U.S. population |
| 26 | Denver, CO | 600,158 |   |
| 27 | Louisville/Jefferson, KY | 597,337 |   |
| 28 | Milwaukee, WI | 594,833 |   |
| 29 | Portland, OR | 583,776 |   |
| 30 | Las Vegas, NV | 583,756 |   |
| 31 | Oklahoma City, OK | 579,999 |   |
| 32 | Albuquerque, NM | 545,852 |   |
| 33 | Tucson, AZ | 520,116 |   |
| 34 | Fresno, CA | 494,665 |   |
| 35 | Sacramento, CA | 466,488 |   |
| 36 | Long Beach, CA | 462,257 |   |
| 37 | Kansas City, MO | 459,787 |   |
| 38 | Mesa, AZ | 439,041 |   |
| 39 | Virginia Beach, VA | 437,994 |   |
| 40 | Atlanta, GA | 420,003 |   |
| 41 | Colorado Springs, CO | 416,427 |   |
| 42 | Omaha, NE | 408,958 |   |
| 43 | Raleigh, NC | 403,892 |   |
| 44 | Miami, FL | 399,457 |   |
| 45 | Cleveland, OH | 396,815 |   |
| 46 | Tulsa, OK | 391,906 |   |
| 47 | Oakland, CA | 390,724 |   |
| 48 | Minneapolis, MN | 382,578 |   |
| 49 | Wichita, KS | 382,368 |   |
| 50 | Arlington, TX | 365,438 |  Top 50 cities are 15.1% of U.S. population |
| 51 | Bakersfield, CA | 347,483 |   |
| 52 | New Orleans, LA | 343,829 |   |
| 53 | Honolulu, HI | 337,256 |   |
| 54 | Anaheim, CA | 336,265 |   |
| 55 | Tampa, FL | 335,709 |   |
| 56 | Aurora, CO | 325,078 |   |
| 57 | Santa Ana, CA | 324,528 |   |
| 58 | St. Louis, MO | 319,294 |   |
| 59 | Pittsburgh, PA | 305,704 |   |
| 60 | Corpus Christi, TX | 305,215 |   |
| 61 | Riverside, CA | 303,871 |   |
| 62 | Cincinnati, OH | 296,943 |   |
| 63 | Lexington-Fayette, KY | 295,803 |   |
| 64 | Anchorage municipality, AK | 291,826 |   |
| 65 | Stockton, CA | 291,707 |   |
| 66 | Toledo, OH | 287,208 |   |
| 67 | St. Paul, MN | 285,068 |   |
| 68 | Newark, NJ | 277,140 |   |
| 69 | Greensboro, NC | 269,666 |   |
| 70 | Buffalo, NY | 261,310 |   |
| 71 | Plano, TX | 259,841 |   |
| 72 | Lincoln, NE | 258,379 |   |
| 73 | Henderson, NV | 257,729 |   |
| 74 | Fort Wayne, IN | 253,691 |   |
| 75 | Jersey, NJ | 247,597 |   |
| 76 | St. Petersburg, FL | 244,769 |   |
| 77 | Chula Vista, CA | 243,916 |   |
| 78 | Norfolk, VA | 242,803 |   |
| 79 | Orlando, FL | 238,300 |   |
| 80 | Chandler, AZ | 236,123 |   |
| 81 | Laredo, TX | 236,091 |   |
| 82 | Madison, WI | 233,209 |   |
| 83 | Winston-Salem, NC | 229,617 |   |
| 84 | Lubbock, TX | 229,573 |   |
| 85 | Baton Rouge, LA | 229,493 |   |
| 86 | Durham, NC | 228,330 |   |
| 87 | Garland, TX | 226,876 |   |
| 88 | Glendale, AZ | 226,721 |   |
| 89 | Reno, NV | 225,221 |   |
| 90 | Hialeah, FL | 224,669 |   |
| 91 | Chesapeake, VA | 222,209 |   |
| 92 | Scottsdale, AZ | 217,385 |   |
| 93 | North Las Vegas, NV | 216,961 |   |
| 94 | Irving, TX | 216,290 |   |
| 95 | Fremont, CA | 214,089 |   |
| 96 | Irvine, CA | 212,375 |   |
| 97 | Birmingham, AL | 212,237 |   |
| 98 | Rochester, NY | 210,565 |   |
| 99 | San Bernadino, CA | 209,924 |   |
| 100 | Spokane, WA | 208,916 | Top 100 cities are 19.32% of U.S. population |
|   | Total | 59,849,899 |   |